The updated Up2Stream mini board has now got Bluetooth and Wifi as well as 3.5mm audio connectors and microUSB for power. This makes it super easy to hook up and get going.
It supports a wide range of application including Spotify, Tidal, Deezer and more. It also supports Airplay, so it can be set as an output device on Mac computers or stream from iTunes and other Mac and iPhone applications. It can be used together with our Tripath range of amplifier to create a small and efficient wireless sound system, or with any amplifier with an analog audio input. t's not really suitable to be used with headphones, as the analog audio output is not that strong. It does require some DIY to hook it up, as there is only a 2 pin connector for power and 3 pin connector audio output. The other Pro version has 3.5mm plugs and can be setup in no time with minimal effort.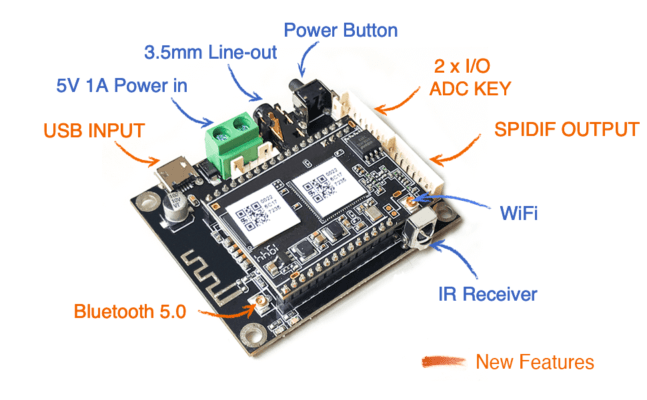 It works with Airplay 2 device (newer iphone etc)  but it doesn't support the Airplay multi-room feature. You can use the Up2Stream multi room feature instead.
You can link several of these to create a multi room setup, where you can control volume of each device individually.
This board requires a 5V power supply (NOT INCLUDED) connected to the 2 pin connector. You can get 5V from any USB charger, it should be 1A or more.
There is an antenna connected to the board, that can hang freely or you can tape it onto something.
Download control APP:
Specs:
WIFI  b/g/n 2.4G and input Bluetooth 5.0 SBC/AAC
Streaming protocols supported: Airplay, DLNA, Spotify Connect, Qplay
Power supply: 5V, min 1A (not included) 2 pin connector and microUSB connector (can use most older Android chargers etc)
Analog audio Output: 3.5mm connector (analog) and 4 pin connector
Digital audio output: Digital i2s, SPDIF (7 pin connector, not toslink) 44.1kHz
Multi room Support
Speaker name can be changed in the app
Music Formats: FLAC, AAC+, ALAC, MP3, APE, WAV
THD: 0.03% @ 0dBFS, 1KHz
SNR: 100dB @ 0dBFS, 1KHz
Power cable: 22cm included with 2.54mm connector
Audio cable: 22cm with 2.0mm connector
Support changing device WiFi SSID & Bluetooth name by mobile app